Pet Sitting all pets
Dog Walking daily
vacation or monthly
Care for
Special Needs Pets

Overnight Care
Deluxe Pampering
Free Referrals and Help
and more!
Contact Services
I would like to use your services how do I get started?
Call us at (954) 894-1234 or send us an email info@petsittersandmore.com.
Let us know what type of service you are interested in, what type of pets you have, what your location is with zip code and how best to reach you. We will get back to you as soon as possible that day or the next morning.
If you require service soon, please take the time to go to our forms section and fill out these forms which will help us learn about your needs and your pets needs.
Once we have your information we will set up an appointment for your initial consultation (Meet and Greet).
You have probably never given much thought to just how much time and effort you put into your pet's good health and happiness. We have!
When you are gone, many things have to be done on a daily basis to make certain your pets are safe, secure, comfortable and happy.
We go through a 25 point checklist every time we visit with
your pets.
You do most of these things automatically when you are home. Isn't it comforting to know that someone is going to go through a Checklist each day and do them for you while you're away?
Maryl and Felice
Pet Sitters and More, LLC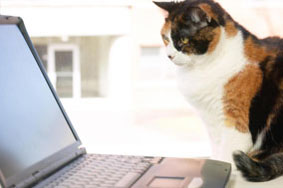 This smart kitty is waiting for your email
You can now follow us on Twitter

and "like" us on Facebook